MobileTracker – Cingular set to launch BlackBerry 7100g
The BlackBerry 7100t, with its slim form factor, large beautiful screen, and SureType hybrid keyboard has been a hit on T-Mobile, the only U.S. carrier to offer it (it's available in Europe on Vodafone as the 7100v, and in Canada via Rogers as the 7100r).
Now, Cingular is preparing to release its own version of the "Charm" handset, to be called the 7100g.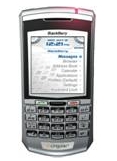 I'm in love with my 7100t. It's a great phone, fantastic for email and web browsing, and generally a well designed and well made device. If I could just resolve
the T-Mobile issue that's preventing all 7100t users from accessing some internet services
, I wouldn't be considering switching to Cingular. As it is, a switch to Cingular might be a viable option for
BlackBerry customers that T-Mobile is driving away
.