My post on "Whoever Gets Google Calendar syncing with Outlook First, Wins" has been one of the most popular posts I've made this year, according to my logs. There have been a couple of solutions come out since then, but frankly, I haven't had time to try them out yet.
But I just read about a new Pocket PC Today Screen plugin from SnoopSoft (creator of the ever-popular Dashboard) that syncs directly with Google Calendar via the web.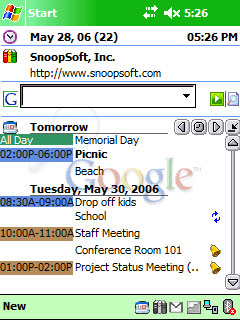 I'm not sure if it syncs both ways, or only shows your Google Calendar on the Today screen, but pretty cool. I'm going to have to try this one out as soon as a trial becomes available (Pocket PC Thoughts says a trial version is coming soon).